The 4th Generation of Silicone Conductive Tube Production Line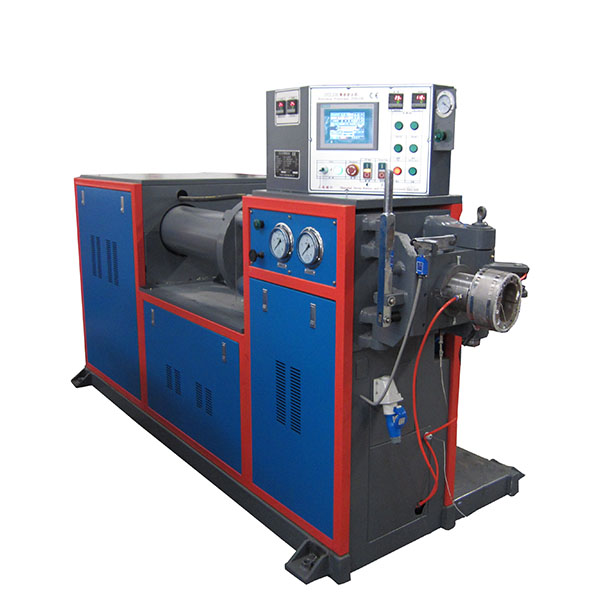 This equipment is dedicated to the silicone conductive tube, conductive strip production. Basic principle is to use ram extruder to extrude rubber compound, and cured directly in the process of extrusion. Two equipments are extruding at the same time for conductive resin of different materials and double materials tube of non-conductive resin. This equipment adopts the ration accuracy control extrusion speed to ensure stable quality.
Features:
1. Without staff supervision, extrusion speed absolute stable, ensure the quality stable.
2. Extrusion speed precision display can be corrected randomly.
Classifications of four generations of ram extruder method
| Performance/model | Extrusion speed adjustment method | Extrusion speed | advantages and disadvantages of display | Products quality |
| --- | --- | --- | --- | --- |
| 1st generation | Extrusion speed adjusted by extrusion pressure | Rough display | Extrusion speed is unstable with the increase of extrusion friction speed slow | unstable, Most used currently |
| 2nd generation | Extrusion speed adjusted by hydraulic system flow | Rough display | Extrusion speed is relatively stable but accurate correction speed is more difficult | Lack of stability, Most used currently |
| 3rd generation | Extrusion speed adjusted by hydraulic system flow | Precise display | Extrusion speed stability, such as error is to call the police. And precise adjustment | Quailed, but need manual adjustment |
| 4th generation | Extrusion speed adjusted by hydraulic system flow | Precise display and Automatic correction on extrusion speed | Extrusion speed stability no need to adjust manually | No defects |
Technical Parameter
| Item | Unit | JYZ80 | JYZ100 |
| --- | --- | --- | --- |
| Barrel inner diameter | mm | 80 | 100 |
| Main power | Kw | 2 | 2 |
| Curing unit power | Kw | 1.6 | 1.6 |
| Max. extrusion pressure | Mpa | 35 | 35 |
| Curing temperature | ℃ | 350 | 350 |
| Extrusion precision | % | ±1.0 | ±1.0 |
| Single feed volume | L | 2 | 5 |
| External dimension (L*W*H) | m | 1.75×0.76×1.7 | 2.9×1.2×1.7 |
| Weight | t | 1.2 | 2.2 |
| Cooling water flow | L/min | 10 | 10 |